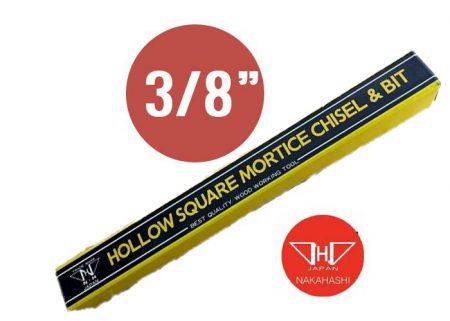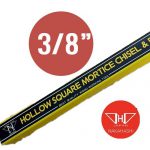 3/8″ (9.5mm) Mortise Chisel Bit Set (Old Packaging)
£40.52 + VAT
Manufactured to the highest standard from the best quality steel in Japan.
THIS IS THE ORIGINAL PRODUCT BUT IN OLDER PACKAGING. UNUSED, IN NEW CONDITION.
Description
Chisel Blade Length = 3.3/4″
Shank Diameter = 13/16″
Bit Twist Length = 3″
Shank Diameter = 1/4″
Nakahashi Mortice Chisel & Bits are produced in Japan to standards of the highest quality.
The Auger bit itself has a point with one cutting spur, unlike the one which used to be made in the UK which carried 2 spurs (Clico). This single spur bit allows much better chip clearance, and sharpening of the bit is faster with a single spur. Cutting performance is also improved, even when processing hardwoods.
The chisel part of the tool is subjected to a hardening process before being finished manually by a skilled team, this enables a keener cutting angle to be achieved and a more efficient cut with less operator fatigue.
The Augers supplied are oversized, so they fit many different types of machines and cab easily be cut to size to fit.