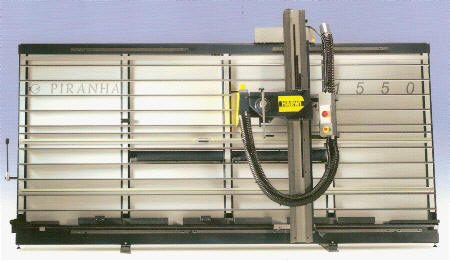 Harwi Piranha 1550 – 1850 Vertical panel saw
Unique 'two support' frame construction. Welded in one piece. Hardly any installation time. With locking controller (vertical cuts).
Harwi Piranha
Call For Price
Description
Product Enquiry
Description
Unique 'two support' frame construction. Welded in one piece. Hardly any installation time. With locking controller (vertical cuts).
Harwi Piranha
Standard Equipment

 Locking controller (vertical cuts)
 Length stop
 2 midway fences
 Panel mover
Optional Equipment

 Self-moving panel support (manually operated)
 Self-moving panel support (automatically operated)
 Digital read-outs (horizontal cuts)
 Transport rollers
 TRK system
 Extra midway fence
 Reiteration stop
 Stops for horizontal cuts
 Emergency stop
Harwi vertical panel saws can be used (with necessary options) for cutting:

 Aluminium
 Trespa
 Blockboard
 Hardboard
 Woodwool cement sheets
 Insulation material
 MDF
 Plywood
 Various plastics
 Chipboard
 Alucobond
Reiteration stop
For repetitive horizontal cuts.
Panel mover
Stops for horizontal cuts
For adjustment of horizontal cuts.
Length stop
For vertical cuts. Accurate measure adjustment by means of magnifying glass. Easy positioning.
Self-moving panel support
Horizontal cuts are possible in every position.
TRK system
Milling cutter
By means of a milling cutter equipped with a tracer notch ready to be processed, can be cut. (Alucobond, Dibond).
Transport rollers (foot operated)
Panels are positioned by means of rollers. Plastic panel supports guarantee high precision, even after years of intensive use.
Digital read-out (horizontal cuts)
| Technical | 1550 | 1850 |
| --- | --- | --- |
| Max. vertical cut | 1550mm | 1850mm |
| Max. horizontal cut | 3300mm | 4300mm |
| Max. depth of cut | 55mm | 55mm |
| Saw Blade Diameter | 250mm | 250mm |
| Motor Power | 3Kw | 3Kw |
| Voltage | 400V/3~ | 400V/3~ |
| Spindle Speed | 2800rpm | 2800rpm |
Product Enquiry