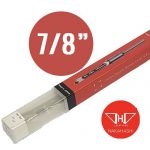 7/8″ (22.00mm) Mortise Chisel Bit Set
£98.75 + VAT
Manufactured to the highest standard from the best quality steel in Japan.
GET FREE DELIVERY AND 10% OFF WHEN YOU PURCHASE £200 OR MORE OF MORTISE CHISEL AND BITS PRODUCTS!
Description
Chisel Blade Length = 6″
Shank Diameter = 1.3/16″
Bit Twist Length = 5″
Shank Diameter = 1/2″
Nakahashi Mortice Chisel & Bits are produced in Japan to standards of the highest quality.
The Auger bit itself has a point with one cutting spur, unlike the one which used to be made in the UK which carried 2 spurs (Clico). This single spur bit allows much better chip clearance, and sharpening of the bit is faster with a single spur. Cutting performance is also improved, even when processing hardwoods.
The chisel part of the tool is subjected to a hardening process before being finished manually by a skilled team, this enables a keener cutting angle to be achieved and a more efficient cut with less operator fatigue.
The Augers supplied are oversized, so they fit many different types of machines and cab easily be cut to size to fit.
Advice on the correct use of Hollow Square Chisels and Bits
Place the chisel into its socket in the attachment. Put a coin about 1/16″ thickness (such as a 2 pence piece) between the face of the socket and the shoulder of the chisel being pushed fully home, tighten down on the screw to hold the chisel in place. Now fit the bit into the drill chuck and push it as far as possible into the chisel and secure. Slacken off the screw holding the chisel, remove the coin, push the chisel firmly home, tightening down the screw. This setting will allow sufficient clearance for the bit to run smoothly in the chisel and begin to cut just ahead of the chisel.