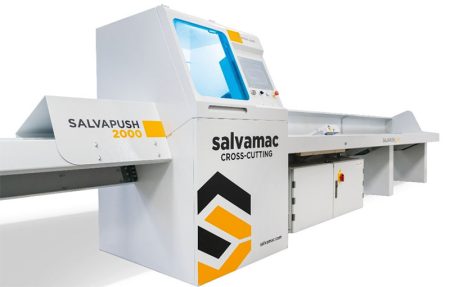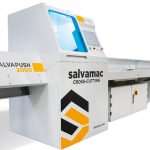 Salvamac Salva Push 2000 Automatic and Optimising Crosscut Saw
The Salva Push 2000 is a new way of thinking about woodworking machinery. It is constructed and produced by European Manufacturer SALVAMAC in Italy. This Auto Crosscut Machine Salva Push 2000 with auto push feed, optimisation software and total optic system which allows the cutting of wood detects using a fluorescent crayon. The Salva Push 2000 is the perfect solution for companies who crosscut materials on a daily basis, using more conventional type radial arm crosscuts.
Description
Product Enquiry
Description
This machine can replace 3 x Radial Arm Saws and release the operators for other work. The Salva Push 2000 is a HD Programable auto crosscut saw and is ideal for repetitive cutting of fixed lengths of wood with automatic length recognition of random lengths.
Providing high performance, precision and safety, ease of use with safe operation were key factors in its design. A maintenance free machine with no adjustments or change over times you can expect up to a 300% increase capacity over manually operated machines with added accuracy over standard manual crosscuts ensuring minimum waste and maximum yield of your raw materials. The Salva Push 2000 touch screen control makes the writing and running of programmes a simple process for the operator and does not require complicated training on the use of this software. We welcome further questions you may have on this machine. Please contact our sales dept for further information.
MAIN TECHNICAL FEATURES
CUTTING SECTION AND BOARDS DIMENSION
Cutting section: min. mm.30X12, max. mm. 270×120 / 300×95. Special cutting section optional on request.
Length of the boards before cutting: min mm. 500, max mm.4100
Possibility to make only one cut in the last 40 mm. of the board Minimum length of the final waste mm 5.
Max wood weight kg. 120 (optional special solution on request).
CUTTING GROUP
Structure in hard steel: high thickness and really strong.
The Cutting group has a 25° inclined plane as the feeding area.
Power motor blade HP=7,5 (5,5 kW).
The cutting time is adjustable from 0,1 to 1 sec. directly by the computer.
Regulation of the speed can be done by pneumatic system.
All the cutting blade area is machined and indipendent to have a high quality plane
Aluminium blade inserts.
Smart pressure beam that is adapting after the first cut to the thickness of the boards.
Circular blade in HM, diameter mm. 500.
Product Enquiry