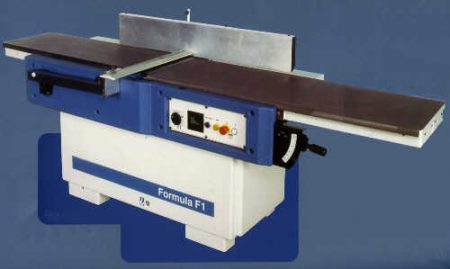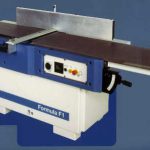 SCM Formula F1 Surface Planer
Call For Price
Recessed planer protection beneath worktable
Greater table surface area
Motor with vibration-proof device
High stock removal capacity
Stability under all operating conditions
Description
Product Enquiry
Description
The planing fence provides a broad surface ensuring a firm support even in heavy working conditions with bulky parts. The planer working angle from 90 to 45 degrees is well indicated.
The optional mortiser has a large-size work table with precision movements on the horizontal, vertical and lateral axes.
Planer (diameter 120mm) with 4 blades. Cutter block available with automatic blade securing and adjustment.
The infeed and outfeed tables are made in ribbed cast-iron and are controlled by a rod/parallelogram system for maximum safety. This system ensures a constant distance between the surface and the cutter block, keeping the surfaces parallel to the cutter block at all times.
Technical
Max. working width
410mm
Total table length
2650mm
Infeed table length
1450mm
Outfeed table length
1150mm
Height of work surface
845mm
Cutter block speed
5000rpm
Cutter block diameter
(no. knives)
120mm (4)
Max. stop depth
20mm
Max stock remova
20mm (8 CE)
Fence size
1200 x 190mm
Fence angle
90-45 °
Motor power
4Kw 5,5HP 50Hz
Options
Tilting guide (for machining thin workpieces)
Available
Cutter block with disposable knives
Available
Motor 5.5kW 7.5HP(50HZ)
with star/delta start
n/a
Mortiser
Available
Work table size
400 x 185mm
Lengthways stroke
130mm
Crossways stroke
140mm
Vertical stroke
150mm
Product Enquiry