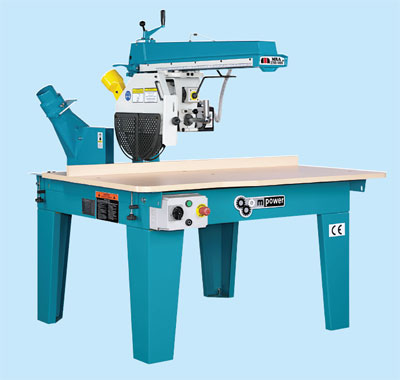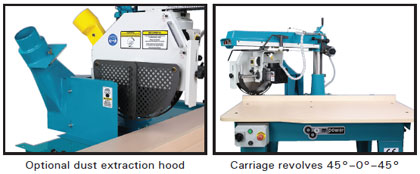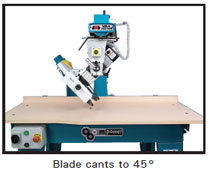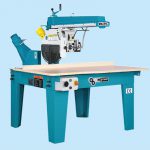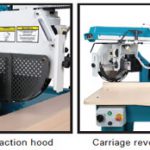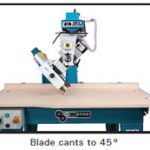 Mpower Radial Saw Type MRA 350 400 450
Call For Price
Laser Guide Fitted as Standard
Special angular contact roller bearings and hardened silver steel rails ensure accurate movement of the saw carriage. This feature also facilitates easy replacement giving renewed accuracy and longer machine life.
Solid cast iron construction of arm and pillar ensure vibration free cutting.
The arm rotates 45° to the left and right with locators/stops for positive cutting.
Sawblade can be angled and locked securely 0-45°
Safety features include, automatic self-braking motor, fully enclosed sawblade guide, carriage-lock mechanism and head return spring.
Dust extraction fitted as standard. (Literature shows optional dust extraction outlet).
Description
Product Enquiry
Description
Technical
Model (standard arm/longer arm)
MRA 350/350A
MRA 400/400A
MRA 450/450A
Maximum diameter of saw
350mm
400mm
450mm
Maximum Saw Projection
108mm
133mm
155mm
Crosscut capacity 90°
STD
415 x 108mm
390 x 133mm
330 x 155mm
Crosscut capacity 45°
STD
227 x 108mm
110 x 133mm
230 x 155mm
Height of Work Table
813mm
813mm
813mm
Motor Power
3 Phase
3.0Kw (4Hp)
4.5Kw (6Hp)
4.5Kw (6Hp)
Motor Power
1 Phase
3.0Kw (4Hp)
3.0Kw (4Hp)
3.0Kw (4Hp)
Speed of Spindle
50 Hz
2850 RPM
2850 RPM
2850 RPM
3450 RPM
3450 RPM
3450 RPM
Saw Spindle Diameter
30mm
30mm
30mm
Dust Outlet Diameter
2 x 100mm
2 x 100mm
2 x 100mm
Extraction Requirements
800cfm
800cfm
800cfm
Product Enquiry