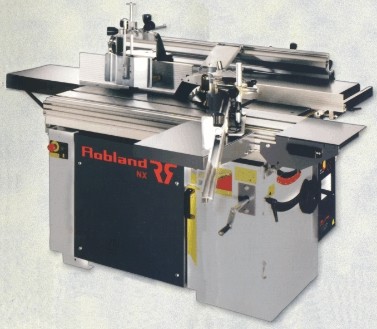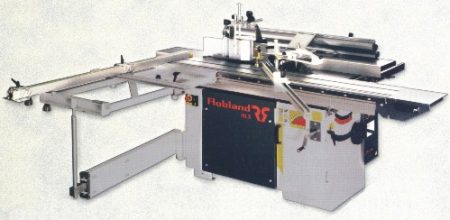 Robland NLX-310-NX-310
The machines NX-310 and NLX-310 are compact combined woodworking centres providing the modern woodworker Robland quality, precision, liability and security.
Call For Price
Description
Product Enquiry
Description
The frame is designed to maximise strength and rigidity and is built of 4mm steel plate, and holds the cast iron saw-spindle table (total weight of machine NLX-310 is 650 kgs).
The hard anodized aluminium extrusion of the sliding table is precision machined and features a 310mm wide sliding table, and impressive 140mm wide lower beam. The heart of the sliding table is 8 hardened steel rods, inserted into the aluminium, set in a square pattern to guide the steel roller balls.
This makes the whole system extremely wear-free, requiring almost no cleaning.
Standard cutting length is 1340mm, optional cutting length 1900mm.
Standard motor sizes are 3kW three phase, 2.2kW single phase, optional 4kW three phase.
When machining large panels, the table surface is determinating, with the NLX-310 you have a major advantage.
The mitre fence and stop on the sliding table is equipped with an eccentric woodclamp. Exact angles can be set and secured.
Standard spindle diameter is 30mm (option 50mm), the working length of the spindle shaft is 125mm, the up and down stroke is 140mm. The maximum tool diameter which can be lowered under the table surface is 180mm, the spindle is locked with a lever. The spindle protection and woodpushers assure optimal safety.
The large, hard anodized, jointer fence makes edge planing easy. Thanks to its special support bracket, the fence sets at any angle without a gap between the fence and the table surface.
Setting the height of the thicknessing table is easy and simple, the travel up/down is 230mm.
The mortiser, easy and simple to detach, is operated by 2 detachable levers, and is equipped with a 2-jaws chuck 0/16mm.
Very easy to operate, well dimensioned 310mm wide sliding table, 140mm wide lower beam. The result of all this clever design is the very high quality of cut from the saw.
Cast iron power feed "fold away" support table, standard on the NLX-310.
Option : "WIGO" cutter-block with 3 reversible knives, provides quick precise setting of the knives.
Option : "GILCO" universal spindle cutter-block, takes all grindable profile knives, no need for tilting spindle anymore! For spindle diameters 30mm and 50mm, cutter-block diameters 145mm and 160mm, height 40mm and 50mm
Technical
Tension
230/400 – 230 (single phase)V
Motorisation 3 motors
3, (option 4)
(single phase 2.2) kW
Planer-Thicknesser
Diameter planer shaft
70mm
Number of knives
3
Dimensions planer knives
(minimum height knife 20mm)
310x25x3mm
Rpm planer shaft
5200rpm
Planer width
310mm
Dimensions planer tables
310x1400mm
Length infeed planer table.
700mm
Width thicknesser table
310mm
Capacity thicknesser
230mm
Feeding speed thicknesser
6m/min
Circular Saw
Max. diameter saw blade
300x30mm
Max. cutting depth
(saw blade 300mm)
100mm
Type saw blade (included)
carbide(K)
Tilt saw blade
90 to 45 degrees
Rpm
4500
Dimensions saw table
1150x350mm
Total length saw table with extension
1600mm
Dimensions cross-cut table
1070x500mm
Length sliding table standard
1250 (option 1700)mm
Spindle
Diameter spindle arbor
30 (option 50)mm
Vertical stroke
140mm
Useful length spindle
125mm
Diameter table opening
180x95mm
Max. diameter tool spindle fence
180mm
Rpm
3000/6000
(single phase 6000)
Dimensions spindle table
1146x300mm
Dimensions spindle fence plates
450x150mm
Mortiser
Rpm
5200
Type chuck (2 jaws)
M24 x 1.5 left
Capacity chuck
0-16mm
Dimensions mortiser table
425x200mm
Stroke in/out/up
165x140x85mm
Product Enquiry