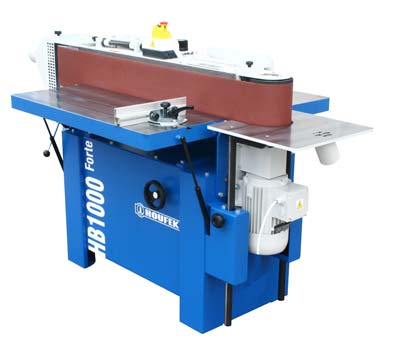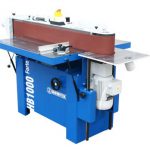 Houfek HB1100 Forte Oscillating Sanding Machine
Call For Price
HB1000 Forte is universal edge sander with oscillating belt and high adjustment of sanding unit.
HB 100 Forte is designed for exacting operations with large workpiece.
Machine is possible to use for sanding veneered edges, for edges sandig on driving roller or for sandig with sandig rollers of different diameters.
Description
Product Enquiry
Description
Technical
Working table dimensions
mm
1000 x 400
Moving table dimensions
mm
1000 x 400
Max. angel of table tilting
°
0 – 45
Width of sanding belt
mm
200
Length of sanding belt
kW
5,5
Speed of feeding belt
mm
3200
Main motor power
kW
3
Speed of sanding belt
m/s
14
Exhaust tube diameter
mm
120
Recommended speed of exhausting
m/s
25
Recommended power of exhausting plant
m³/hod
1850
Parameters are approximate depend on the type and configuration of the machine.
Standard equipment
Belt width 200 mm – length 3200 mm
Motor 3 kW
Tilting worktable 0-45°
Lifting of sanding unit
Mechanical belt stretching
Belt oscilation
CE electric and safety standard
Optional equipment

1 phase, 230/50Hz, motor 2,2 kW
Motor with electric controlled brake
Two-speed motor
Side table for sanding on driving roller  rubber covered roller
Frequence convertor of main motor of sanding unit 3-18 m/s
Modification for precise sanding by pad, including straight pad
Additional moving table 1000×400
Modification for sanding sanding rollers additional table 400×400
Product Enquiry